Date : 5-9 June 2007

Venue : Hall 1, 2 and 3
World Trade Center
Taipei, Taiwan.

Face-Tek Stand:
Hall 3 Security Zone, Stand No. G 759.

 
As an annual global IT exhibition, COMPUTEX TAIPEI not only assembles a very large range of cutting-edge IT products and technology under the same roof, but at the same time also showcases the most complete IT integration applications. Every year it attracts 30,000 attendees from more than 100 countries, many of them are high caliber decision makers. With this size, it is obvious that COMPUTEX TAIPEI is considered that to be the leading global IT exhibition. It has also becomes a symbol of trade and technology exchange platform.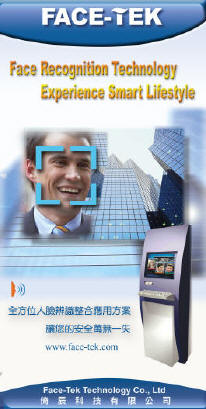 With the participation of Face-Tek in the expo, attendees will have the opportunity to see live demonstration of its newly launched product, NotiFace II Intelligent Face Searching and Recognition System, as well as other applications that can be tailored for residential and commercial security requirement.