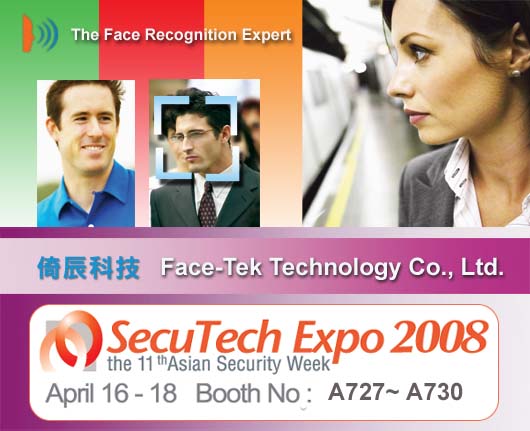 ---

SecuTech Expo 2008
April 16 - 18 , 2008
Hall 1, Taipei World Trade Center, Taiwan
Booth:A727~ A730
---
SecuTech has an annual array of the latest products and solutions from top makers, right when they are released during the first quarter of the year. Visitors can see the latest innovations from a wide range of product categories, including IP surveillance, video analytics, biometrics, mobile security and hybrid solutions.

With the participation of Face-Tek in the expo, attendees will have the opportunity to see live demonstration of its newly launched product, NotiFace II - Face Recognition Surveillance System, Face-Tek Access Control System, ClientFace - VIP Identification System, as well as other applications that can be tailored for residential and commercial security requirement.

"Face-Tek Reader" Wins the Most Popular Access Control Product Award in SecuTech Expo 2008.
---