Smart AI Thermal Face Detection
The product integrates high-sensitivity infrared camera, high-definition visible light camera, high-precision black body, high-performance temperature measurement engine, non-medical, artificial intelligence driven, automatic alarm, visualization platform and high-precision thermal imaging detection system.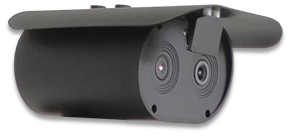 Based on artificial intelligence algorithm and infrared thermal imaging temperature measurement technology, it can quickly check and warn people with fever symptoms in the crowd, and accurately display the highest temperature value. This equipment is widely used in large public places such as airports, stations, schools, hospitals, factories and shopping malls.
The system is equipped with automatic face detection and can detect the thermal temperature of the forehead in milliseconds. The thermal temperature measurement accuracy is ±0.3°C . At the same time, it has an automatic temperature algorithm based on artificial intelligence technology, without on-site manual intervention, can accurately identify and count the number of people passing by, and quickly analyze and display the temperature of individual personnel.
Product Highlights
High sensitivity infrared camera.
HD visible light camera.
Long range detection: 1.5 m ~ 5 m.
Camera + embedded system + black body integrated system.
No computer required, connect directly to monitor.
Built-in black body, automatic correction, against the influence of environmental temperature noise on thermal imaging.
Accurate forehead temperature measurement algorithm, filter background high temperature effects (optional: easily connect to the cloud for data analysis).
Fast Detection
Can measure and detect a large number of people within 0.05 seconds.
High Sensitivity
The temperature resolution of the instrument can reach ± 0.3 °C, which is suitable for long-distance measurement of large crowd flow in a large area.
Detection While Moving
Can undergo detection without requiring targets to manually stand still in front of camera, but they can move as normally through area.
Excellent User Experience
The system has strong operability, flexibility, scientificity and multi-platform control and display.

Product Specifications
Visible Light Camera
Resolution
2 MP
Focal Length
6 mm
Imaging Device
CMOS
Minimum Illumination
0.01 Lux (color mode) -0.001 Lux (black & white mode)
Signal-To-Noise Ratio
> 56 dB
Voltage
5 V
Infrared Camera
Detector Type
Uncooled infrared array sensor
Resolution
160 * 120 output (384 * 288)
Pixel Pitch
17 um
Working Band
8~14 um
Detector NETD
≤ 60 mK (F/1, 300K, 50Hz)
Frame Rate
15 Hz
Temperature Measurement Data Output
Full temperature output
Temperature Range
32 °C ~ 50 °C
Viewing Angle
40° × 30°
Number Of People Detected Per Minute
150 ~ 200 people
Black Body
Effective Radiation Area
20 mm * 30 mm
Area Emissivity
0.96 ± 0.02
Temperature Range
(Ambient temperature + 5 °C) ~ (50 °C)
Temperature Resolution
0.01 °C
Accuracy
< ±0.1 °C
Warmup Time
< 2 mins
Motherboard
SOC
Broadcom BCM2711
CPU
64 bit 1.5 GHz quad-core (28 nm processor)
GPU
Broadcom VideoCore VI @ 500 Hz
Bluetooth
Bluetooth 5.0
USB
USB 2.0 * 2 / USB 3.0 * 2
HDMI
Micro HDMI * 2, supports 4K60
Power
Type C (5 V / 3 A)
Network
WiFi 802.11AC, gigabit ethernet
Multimedia
H.265 (4Kp60 decode);
H.264 (1080p60 decode, 1080p30 encode);
OpenGL (ES 3.0 graphics);
Other Parameters
Lighting Effect
IR-Cut automatic switching, backlight compensation, strong light suppression, automatic white balance
Operating Temperature
0℃ ~ 40℃
Interface
RJ45, USB
Installation Environment
Indoor or outdoor
Installation Method
Stand, wall mount, hanging (optional)
Product Size
230 mm x 142.6 mm x 88.5 mm
Package Size
L265 mm x W270 mm x H150 mm
Net Weight / Gross Weight
1.5 kg / 1.8 kg